MyPACS - PACS-Link
Features
Across New Zealand there are a large number of Public and Private Radiology companies all taking and storing patient images.

Often these images need to be requested from one Radiology provider to another so that prior patient studies can be viewed with new imaging.

PACS-Link connects multiple PACS systems together allowing them to be searched quickly and easily delivering results for both Radiology Practises and patient treatment.
.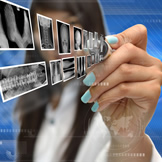 Simple Image Searching
No e-mailing patient image requests to providers. PACS-Link is part of the Connected Health Network meaning all searches and image retrieval requests are handled securely. No matter what you use for your current PACS system - MyPACS DR can take the pain out of archiving those all important images.
Image Security Image security and safety is paramount - images can only be retrieved if the requesting user has permission from the image holder to do so.